The privacy of your personal information is important to us. Please read and review this privacy policy for more information.
Visitors are allowed to browse our site without entering any personal information or having any personal information recorded. The option to enter your name, e-mail address, phone number or any other personal information on our online form is voluntary to help us communicate with you. Enter this information only if you would like additional information about our practice or you are interested in scheduling an appointment. The information entered will be used by our practice solely to track and follow up with your requests and will NOT be sold to any third party. If you would like to opt-out of further communication with our office after being contacted by e-mail or phone, simply let us know, and we will comply immediately.
Our websites ( CosmeticDentistAlexandria.com and InvisalignAlexandria.com ) contain links to other websites. We are not responsible for the content or privacy practices of those websites.
If you have any questions or concerns regarding this privacy policy, please contact us.
Our Location
Mt. Vernon Center For Dentistry
Dr. James D. Geren and Dr. Zeyad Mady provide expert family and cosmetic dentistry in the Alexandria and Mt. Vernon, VA area. http://www.cosmeticdentistalexandria.com/ 8101 Hinson Farm Rd Ste 114
Alexandria, VA 22306
703-360-5881703-996-4666 smiles@CosmeticDentistAlexandria.com
From the Smile Gallery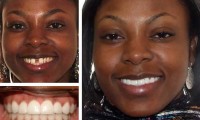 | | |
| --- | --- |
| | Click the button to the left to +1 our practice. |
---
Write A Review
---
Follow Us!