Teeth whitening is a popular cosmetic dental service that Mt. Vernon Center For Dentistry provides in-office or through a take home kit. Results vary, but most patients observe significant lightening that lasts up to a year. Our Alexandria teeth whitening patients affirm that a whiter smile boosts self confidence and can take years of wear and discoloration away to reveal a brighter smile.
Teeth whitening and teeth bleaching, however, mean two different things. Surface cracks and stains ensue on tooth enamel, exposing the yellower dentin below the surface. Discoloration can be the result of the natural aging process, illness, genetics, or dark colored food or drink. Foods and beverages that are both dark colored and acidic – like wine, coffee, and tomato sauce – have even greater staining power.

Teeth whitener can refer to any product used to remove stains from tooth enamel: toothpaste, do it yourself strips, and some mouthwashes are safe and affordable and can enhance teeth with continued, regular use. The extent of whitening varies, and it takes dedicated, use to see results.
Whitening products that do not contain bleach can usually make teeth two to four shades lighter. These are a good choice for Mt. Vernon men and women with sensitive teeth and gums that can react to products containing harsher whitening chemicals. Mt. Vernon Center For Dentistry counsels pregnant or nursing mothers to select the non-bleach whitening products.
Teeth bleaching is used to describe a tooth whitening product that contains a form of bleach, either hydrogen peroxide or carbamide peroxide, in varying concentrations. For best results, teeth bleaching should be done in-office by your Virginia cosmetic dentist. Bleaching can often achieve more noticeable results, sometimes up to seven shades lighter. Intrinsic stains on the dentin, as well as surface stains can be effectively lightened under an experienced Alexandria dentist's supervision.
Call the continuing education team at Mt. Vernon Center For Dentistry to schedule a consultation!

Family Dentistry
The following online articles were used as source material for this post:
Linda Dyett, 'Teeth Whitening: How it Works and What it Costs,' Consumer Guide to Dentistry, September 12, 2011, http://www.yourdentistryguide.com/teeth-whitening/.htm, accessed on February 6, 2012
'How to Whiten Teeth,' What's Cooking America, http://whatscookingamerica.net/HealthBeauty/TeethWhitening.htm, accessed on February 6, 2012
Contact Mt. Vernon Center For Dentistry:
Location (Tap to open in Google Maps):
At Mt. Vernon Center For Dentistry, our passion is helping Mt. Vernon patients achieve and maintain a healthy and beautiful smile. Drs. Geren & Mady's considerable experience, advanced skills, and exacting standards ensure the ultimate in patient satisfaction.
Because each Alexandria man, woman, and child has unique dental needs, we develop a personalized treatment plan that addresses each patient's challenges and goals.
Some Alexandria dentistry patients come in twice-yearly for an examination, cleaning, oral cancer screening, and fluoride treatment. We work with them to maintain their oral health and prevent common dental problems such as cavities and gum disease.
Many Mt. Vernon smile makeover patients take advantage of modern cosmetic dental procedures to achieve the smile they deserve. If you are unhappy with your smile, contact us today at 703-996-4666. We offer a broad range of cosmetic dental procedures including dental bonding, porcelain veneers, dental crowns, teeth whitening and tooth-colored filling replacement. We also offer sedation dentistry options for Alexandria folks who become anxious during dental treatment. You can take comfort in the fact that we are dedicated to the highest standard of safety and sterility at our practice.
If you are looking for a family dentist or cosmetic dental specialist in the Mt. Vernon area, call Mt. Vernon Center For Dentistry at 703-996-4666. We invite you to visit our comfortable Alexandria dental office and friendly staff.

Family Dentistry
Contact Mt. Vernon Center For Dentistry:
Location (Tap to open in Google Maps):
You have probably seen ads for bleaching products contain terms such as "white brite," "22 carbamide peroxide" and "peroxide teeth." How do you separate tooth bleaching fact from fiction?
Some tooth whitening dentists will guarantee fantastic results for any patient that desires a whiter smile. At Mt. Vernon Center For Dentistry, we only recommend tooth bleaching for patients that are good candidates for the process. We invite you to speak with Drs. Geren & Mady, DDS at our Alexandria office. Not all teeth whitening systems are appropriate for every person.
Don't be fooled by smile whitening hype and risk poor results. If you have existing cosmetic dental work such as crowns, bonding, partial dentures or bridge work, it is vital to talk to a trusted professional about worry-free teeth whitening.
If you have all-natural teeth that are dull or stained, tooth whitening will probably brighten your smile. If you have several crowns in the front of your mouth, veneers, or gums that have receded, conventional tooth whitening may not be successful.
Porcelain veneers may be a better solution for you. There are several brands of veneers such as Lumineers by Cerinate, da Vinci and Mac. The vast majority of Alexandria veneer recipients are delighted with the results. Porcelain veneers not only brighten your smile, they can provide many other improvements.
Veneers are sometimes called "instant orthodontics" because they can repair tooth misalignment and gaps as well as deliver instant teeth whitening.
Schedule a consultation by calling 703-996-4666. I look forward to meeting you and discussing your unique smile.
For more specifics about our services including sedation dentistry, dental implants, or Invisalign, call 703-996-4666.
Contact Mt. Vernon Center For Dentistry:
Location (Tap to open in Google Maps):
Alexandria parents want what's best for their kids, but some can't always provide everything their children need when the family budget is tight. If your child has crooked teeth and you are on the fence about braces, we encourage you to read this post.
1. A beautiful smile with straight teeth boosts your child's self-esteem.
Young children with crooked teeth may not notice that anything is wrong, but eventually they will realize that their teeth don't look right. Straight teeth make the whole face more pleasing and attractive. If your child is self-conscious about an unsightly smile, he or she will be reluctant to smile. A serious demeanor could influence the way he or she is treated by peers.
2. Crooked teeth can impact the bite.
If you suspect that your child's bite is not aligned, we invite you to make an appointment with Mt. Vernon Center For Dentistry. Drs. Drs. Geren & Mady can evaluate your child's bite and make recommendations to see a specialist if necessary.
3. Crooked teeth can impact normal speech development.
4. Correcting a child's teeth with orthodontia is speedier and easier when the jaw is young and flexible.
5. Crooked teeth can diminish your child's ability to eat a healthy diet.
Misaligned teeth can make chewing and eating difficult. Children need a variety of foods but may miss out on essential nutrients if they can't chew raw vegetables or meat, for example. If your child only eats soft foods, his/her jaw may not develop normal size and strength.
6. Misaligned teeth can damage the gums and underlying bone.
7. If crooked teeth cause malocclusion (bad bite), troubles with TMD (Temporomandibular Disorders) can result.
TMD is a harmful condition affecting the jaw joint.
8. It's easier to clean teeth when they are straight and uncrowded.
When uneven teeth begin to crowd together, it becomes challenging to make important daily cleanings effective. And, when your teeth aren't cleaned properly, issues with plaque build-up, cavities, and gum disease frequently result.
9. If the child's crooked teeth are not corrected while they are young, the issues may compound and become worse with age.
Severely crooked teeth usually impact vitality and quality of life. For example, chewing problems can lead to ulcers, and gum disease increases the risk of stroke and heart disease.
10. There are many new types of braces.
Ceramic, self-ligating, and lingual (invisible) braces are some of the new orthodontia options. In some circumstances, invisible braces can be just as effective at straightening teeth as the old-school type.
To find out if your child needs braces, schedule a consultation at Mt. Vernon Center For Dentistry by calling 703-996-4666.
Contact Mt. Vernon Center For Dentistry:
Location (Tap to open in Google Maps):
During routine dental examinations, your dentist may look for signs of oral cancer. Oral cancer refers to cancers in the tongue, mouth, lips, jaw, and throat. Many Alexandria dental patients don't realize the seriousness of oral cancer. The American Cancer Society estimates that over 39,000 people will get oral cancer this year.1
Consider this sobering news from the Oral Cancer Foundation:
"The death rate for oral cancer is higher than that of cancers which we hear about routinely such as cervical cancer, Hodgkin's lymphoma, laryngeal cancer, cancer of the testes, and endocrine system cancers such as thyroid, or skin cancer (malignant melanoma)."2
When your dentist performs an oral cancer screening during your dental examination, he/she will look for red or white spots, bleeding, lumps, difficulty swallowing, loose teeth, any color changes, and mouth sores. Is is important to tell your dentist if your bite has changed, if you have sores that won't heal, and prolonged hoarseness. An earache in only one ear can also be an indicator.
The existence of any of these symptoms does not mean you have oral cancer, as they can be caused by any number of other conditions. However, if your dentist does discover something unusual, he/she may order additional tests or refer you to a medical doctor for further diagnosis and treatment if necessary.
It's probably no surprise that the main risk factor for oral cancer is tobacco use. This includes all forms, not just cigarettes. Those who consume excessive amounts of alcohol are also more likely to contract this deadly cancer. People with HPV, a sexually-transmitted virus, have a higher risk and prolonged sun exposure to lips makes lip cancer more likely. All of these previously mentioned factors are lifestyle-related and, to a great extent, preventable. People who don't use tobacco or drink heavily are statistically far less likely to get oral cancer and a host of other health problems.
For more information about oral cancer screening, contact Mt. Vernon Center For Dentistry at 703-996-4666. If you are looking for an experienced dentist who provides comprehensive general, restorative, and cosmetic dentistry, we invite you to schedule a consultation with Drs. Drs. Geren & Mady. Drs. Geren & Mady has been serving the Alexandria area since 1983.
1"Oral Cavity and Oropharyngeal Cancer," The American Cancer Society, January 6, 2015, http://www.cancer.org/cancer/oralcavityandoropharyngealcancer/detailedguide/oral-cavity-and-oropharyngeal-cancer-key-statistics, accessed on January 9, 2015.
2"Oral Cancer Facts," http://www.oralcancerfoundation.org/facts/, accessed on January 9, 2015
Contact Mt. Vernon Center For Dentistry:
Location (Tap to open in Google Maps):
Hello Alexandria! My name is Drs. Drs. Geren & Mady. My dental practice, Mt. Vernon Center For Dentistry, has been serving the Alexandria area since 1983.
If you have questions about oral health, cosmetic dentistry, preventative dentistry, children's dental sealants, tooth implants, oral sedation, safe teeth whitening, or invisible braces, come to Mt. Vernon Center For Dentistry for answers.
My continuing education staff has helped me create an atmosphere of active listening. We enjoy getting to know our patients and determining each patient's unique needs. We want to understand your dental goals and challenges and help you understand the hows and whys of recommended treatment.
We are currently accepting new patients. If you are seeking a friendly children's dentist or cosmetic dentist in Alexandria, we invite you to come in and meet our continuing education team.
Many of our new dental patients ask us about cosmetic dentistry procedures such as teeth whitening, smile makeovers and dental implants. We would love to speak with you about these procedures as well as our other dental services.
If you have small children, it is important for you to make decisions about protective sealants and fluoride supplements. If you have older children, it is beneficial to discuss braces, sports mouthguards, and cavities prevention. If you are not happy with your smile, we would like to introduce you to the latest in cosmetic dentistry. If you are missing teeth, dental implants may be the optimal solution. If you have a family member with a chronic illness, we can counsel you about the impact their condition has on oral health. Oral cancer screenings are vital for patients of all ages.
Thank you for visiting our dental blog and taking the time to learn more about Mt. Vernon Center For Dentistry. Call today to schedule a consultation.

Family Dentistry

Contact Mt. Vernon Center For Dentistry:
Location (Tap to open in Google Maps):
Hi. We areDrs. Drs. Geren & Mady, and today in the Alexandria dentist blog, we want to look at some of the conditions that may result in jaw pain.
Jaw pain may be caused by sinusitis. Sinusitis is the inflammation of the tissues that line your sinuses, and when these tissues are inflamed, the sinuses exert pressure on surrounding areas. If the inflamed sinus is near the jaw, pain in the jaw joint may result. This commonly happens with a cold or allergies.
Many of our Mt. Vernon patients who come to me with jaw pain have some type of dental issue, such as an infection, or a problem in the temporomandibular joint (also known as TMJ).
The source of jaw pain can easily be identified at your Mt. Vernon dental office, and treatment can begin from there. But remember, jaw pain shouldn't be ignored.
If you are looking for quality dental care around the Alexandria, Mt. Vernon, or Alexandria areas, please consider Mt. Vernon Center For Dentistry. I am located in Mt. Vernon and have been serving the greater Mt. Vernon area since 1983. If you have any questions about oral health or cosmetic dentistry procedures such as teeth whitening, veneers, bonding, or dental implants, give us a call today at 703-996-4666.
Mt. Vernon Center For Dentistry offers:
sedation dentistry
dental implants
Invisalign
dental crowns
And so much more! Whether you need a routine dental check-up or are considering a smile makeover, contact our continuing education staff today!
Contact Mt. Vernon Center For Dentistry:
Location (Tap to open in Google Maps):
Today's blog post focuses on an effective and versatile cosmetic dental procedure – porcelain veneers.
Veneers are individual covers for the front part of teeth. They are an extraordinary way to fix a myriad of tooth imperfections such as chips, stains, yellowing, unattractive shape or minimal misalignment.
Have you ever wanted a minimally-invasive facelift for a tooth without getting an entire crown? Veneers are your answer! Super-strong, tooth-colored porcelain laminate is shaped into thin shells and custom-fitted for each patient's unique set of teeth.
How many veneers should you get? This depends on how many teeth you want to enhance and the overall condition of your teeth. Drs. Geren & Mady will counsel you on the best strategy.
The thickness, color, alignment, and shape of your teeth impact the outcome as well as whether you have any gum recession. Veneers are matched to your existing teeth so they will blend seamlessly, but if you are planning to treat several teeth, you definitely want to have them created in the same "batch" at the lab.
The first step in the veneer process is to make a model of your teeth to work from. After that, a dental technician will use the model to create the veneers to the specific size, shape, color, and level of translucency. Experienced cosmetic dentists and dental technicians elevate the level of artistry in this painstaking process.
Many patients wonder if veneers are as durable as their natural teeth. Though the veneer tooth-prep process weakens the tooth slightly, with proper care, veneers can last up to 15 years. Porcelain veneers are more durable than dental bonding, which is sometimes used to fix the same types of imperfections. Dental bonding generally has a shorter life span than veneers, so keep this in mind when comparing the costs of the two procedures.
If you are looking for a dentist with an artistic eye for stunning porcelain veneers, give Mt. Vernon Center For Dentistry a call.

The following website was used as source material for this blog:
http://www.mouthhealthy.org/en/az-topics/v/veneers.aspx, accessed on March 5, 2014
Contact Mt. Vernon Center For Dentistry:
Location (Tap to open in Google Maps):
In today's message we will concentrate on three innovative procedures used in smile makeovers.
1. Tooth Implants
Tooth implants are transforming the face of dentistry. For most patients, a dental implant is the optimal solution for a missing tooth. A dental implant is a metal (usually titanium) rod implanted into the bone to replace the missing root of a tooth that has been extracted. The crown and supporting structure are securely attached to the post.
When the final crown is attached, the dental implant is indistinguishable from a natural tooth. Dental implants have many critical advantages over dental bridges. If you are missing teeth, schedule a consultation with Drs. Geren & Mady to learn more.
2. Invisible Braces
Invisible braces allow you to straighten your teeth discreetly because it is nearly impossible to see them while they are being worn. There are a couple of different varieties of invisible braces including  Invisalign clear aligners.
3. White Fillings
If you had dental caries in the past, you may have old amalgam fillings. White fillings match your surrounding teeth, significantly enhancing your smile without crowns.
Mt. Vernon Center For Dentistry has been providing unmatched dental care since 1983. We look forward to meeting you. Call us today at 703-996-4666.
Contact Mt. Vernon Center For Dentistry:
Location (Tap to open in Google Maps):
Though thin and partially translucent, tooth enamel is the hardest substance in the body and has the critical job of preserving teeth from constant use and the continual assault of chemicals in food and drink. Enamel also protects tooth nerves from hot and cold food and beverages. That's why enamel loss often causes tooth sensitivity.
Cuts heal. Bruises fade. Broken bones mend. The body's ability to heal itself is truly incredible. But tooth enamel is different. When it's gone, it's gone.
The team at Mt. Vernon Center For Dentistry encourages our patients to protect their tooth enamel for a lifetime of dental health.
This may seem counterintuitive, but sometimes it is better NOT to brush immediately after eating. Specifically, after eating acidic items. The acid weakens the enamel which can be further weakened by brushing. Waiting 60 minutes will allow the acid to dilute. Rinsing immediately after eating acidic foods is helpful, however, because it washes away some food particles and speeds up the dilution of the acid.
Some people don't realize that dry mouth can cause or exacerbate enamel erosion. The calcium and phosphate in saliva guard your enamel. When there is little saliva, the enamel is left unprotected. Chewing stimulates saliva production but constant snacking is not the solution for dry mouth. Chewing sugar-free gum and sipping water periodically can stimulate saliva production between meals without increasing the risk of or upping your calorie intake.
In addition, tooth grinding wears enamel away. If you are one of the many Alexandria residents who grinds their teeth at night, it's vital to get a mouthguard promptly. People who grind their teeth are at a high risk for enamel erosion and the dental caries that can follow. Athletes should also guard their teeth on the playing field with a mouthguard. For more information, communicate with Drs. Drs. Geren & Mady at Mt. Vernon Center For Dentistry about custom mouthguards.
If you sip soda, tea, or coffee all day, we suggest you switch to water to halt any enamel erosion that has already occurred. It may be a hard change to make – but if you are successful – your teeth will thank you for it.
Using teeth as tools can damage enamel, as well. Take a moment to fetch scissors before tearing a package or ripping duct tape with your teeth. Do you really want to take a chance on chipping a tooth just to open a package of lunchmeat?
Chewing ice and hard candy can also impair enamel. If you simply must have sugar, soft candy is best as long as it is not left to sit on teeth for long period of time. If your molars are packed with gummy candy, it can cause cavities which erode enamel just as effectively as chipping it with hard candy. Many of the old-school hard candies we enjoyed as kids now come in soft versions. Enjoy them sparingly because constant sugar is bad for teeth. Period.
If you have already experienced enamel erosion or other dental issues, Drs. Geren & Mady can help you protect what is left. To schedule a comprehensive general dentistry examination, contact Mt. Vernon Center For Dentistry in Alexandria at 703-996-4666!
Contact Mt. Vernon Center For Dentistry:
Location (Tap to open in Google Maps):
Our Location
Mt. Vernon Center For Dentistry
Dr. James D. Geren and Dr. Zeyad Mady provide expert family and cosmetic dentistry in the Alexandria and Mt. Vernon, VA area. http://www.cosmeticdentistalexandria.com/ 8101 Hinson Farm Rd Ste 114
Alexandria, VA 22306
703-360-5881703-996-4666 smiles@CosmeticDentistAlexandria.com
From the Smile Gallery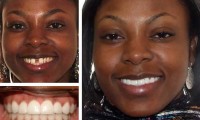 | | |
| --- | --- |
| | Click the button to the left to +1 our practice. |
---
Write A Review
---
Follow Us!