Your Gum Disease Dentist in Alexandria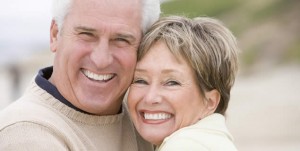 If you have been told you have gum disease, (periodontal disease), you are not alone. Over 50% of adults have some form of this disease! With such common symptoms as a bad taste in your mouth, red or swollen gums, gums that bleed easily or gums that are receding away from your teeth; this disease is the leading cause of tooth loss in adults.
You may not even be aware you have a problem, while this chronic condition slowly erodes the supporting structures of your teeth. Gum infection is linked to serious illnesses that affect your body, such as heart disease, diabetes, strokes, premature child birth and many others.
At Mt. Vernon Center for Dentistry in Alexandria, we take your oral health seriously! We use state of the art periodontal diagnostic and therapeutic techniques in order to catch this chronic infection early so we can help you obtain the best possible result.
During a thorough examination we carefully measure gum pocket depths surrounding your teeth using a probe and a gentle touch. The measurement data is entered into a computer program which shows us all the areas of concern in your mouth such as: gum pocket depth, inflammation, bleeding, and gum recession. We utilize a microscope to visually inspect the activity and aggressiveness of the bacteria and a swish-and-spit saliva test that detects the exact combination of microbes that are causing your gum disease. This comprehensive knowledge allows us to prescribe the most effective and personalized treatment plan for you.
As your dental team, we are committed to helping fight chronic gum disease by providing you with the highest standard of care available through; education, personalized gum treatment protocols, laser therapy, and ongoing supervision during your maintenance visits.
Don't live with gum disease because good oral health is vital to your body's overall wellness! A beautiful, healthy smile leads to a richer, more satisfied lifestyle. Schedule your consultation today.