Beautiful Dental Veneers for Alexandria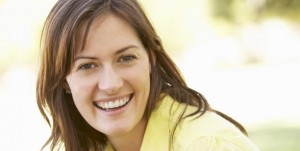 Dental veneers are placed over the imperfections in your smile. If you have chipped teeth, gaps between your teeth, a crooked smile, or unevenly colored teeth that detract from your smile's natural beauty, porcelain veneers can be a fantastic solution for you.
Porcelain veneers are thin porcelain coverings placed on the front of your teeth. Porcelain is the preferred material for a dental veneer because of its translucent quality. Porcelain veneers reflect light the same way as natural tooth enamel. You can even potentially straighten a crooked smile using a dental veneer without orthodontics. Because a dental veneer is placed directly over your tooth, porcelain veneers can also be used to make teeth in a crooked smile appear more even. Your smile will look naturally perfect with our carefully crafted porcelain veneers.
A dental veneer can make a huge difference. If you've been hiding your smile lately, come take advantage of our easy and affordable options. Don't let a crooked smile or other imperfections in your teeth stop you from letting your smile shine. Drs. Geren, Mady, Abbareddy, and Garlisi can't wait to meet you and help get you the smile you've always wanted!
For dental veneers in the Mt. Vernon – Alexandria, Virginia, area, call our office today. You will be amazed what porcelain veneers can do for you.
Porcelain Veneers FAQ
How long will my porcelain veneers last?
The length of time that you can expect your veneers to last will, of course, vary depend on how well they are maintained.  However, with proper care, you can expect your porcelain veneers to last between 15 and 25 years before they should be replaced.
Will my porcelain veneers stain?
No, your veneers will not stain.
How long does the procedure take?
The length of the procedure depends on how many veneers you get.  However, most patients will not spend more than a few hours in our office.
How should I care for my veneers?
Simply treat your veneers as if they were your teeth.  Brush and floss as usual.  If you happen to grind your teeth at night, be sure to let your dentist know, as you will most likely be asked to wear a bite guard to protect not just your veneers, but your teeth, as well.