Beautiful Dental Veneers for Alexandria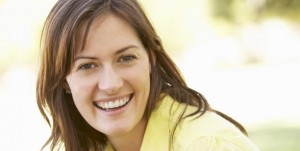 Dental veneers are placed over the imperfections in your smile. If you have chipped teeth, gaps between your teeth, a crooked smile, or unevenly colored teeth that detract from your smile's natural beauty, porcelain veneers can be a fantastic solution for you.
Porcelain veneers are thin porcelain coverings placed on the front of your teeth. Porcelain is the preferred material for a dental veneer because of its translucent quality. Porcelain veneers reflect light the same way as natural tooth enamel. You can even potentially straighten a crooked smile using a dental veneer without orthodontics. Because a dental veneer is placed directly over your tooth, porcelain veneers can also be used to make teeth in a crooked smile appear more even. Your smile will look naturally perfect with our carefully crafted porcelain veneers.
A dental veneer can make a huge difference. If you've been hiding your smile lately, come take advantage of our easy and affordable options. Don't let a crooked smile or other imperfections in your teeth stop you from letting your smile shine. Drs. Geren, Mady, Abbareddy, and Garlisi can't wait to meet you and help get you the smile you've always wanted!
For dental veneers in the Mt. Vernon – Alexandria, Virginia area, call our office today. You will be amazed what porcelain veneers can do for you.
Porcelain Veneers FAQ
How long will my porcelain veneers last?
Porcelain veneers can last for many years with proper care and maintenance. The average lifespan of porcelain veneers is around 15 to 25 years before they need to be replaced. To maximize the lifespan of your porcelain veneers, it is important to brush and floss your teeth regularly, avoid biting hard objects or using your teeth as tools, and visit your dentist for regular check-ups and cleanings.
Will my porcelain veneers stain?
Porcelain veneers are resistant to staining and generally do not change color over time. They are made of a type of ceramic material that is resistant to staining from most foods and drinks. To further prevent staining and keep your veneers looking their best, it is important to practice good oral hygiene, avoid tobacco use, and limit your consumption of heavily pigmented foods and drinks.
How long does the porcelain veneers procedure take?
The length of the procedure depends on the number of veneers being placed and the condition of your teeth. However, most patients will not spend more than a few hours in our office.
How should I care for my dental veneers?
To care for new dental veneers, it is important to brush your teeth twice a day using a toothpaste that is formulated for people with veneers. Avoid using toothpaste that is too abrasive, as it can scratch the surface of your veneers. Floss daily to remove plaque and food particles from between your teeth and along the gumline. Use a non-abrasive mouthwash to help kill bacteria and freshen your breath. Avoid biting hard objects, such as ice or hard candy, and do not use your teeth as tools to open packages or bottles, as these can damage your veneers. Wear a mouthguard while playing sports to protect your veneers from impact. Visit your dentist regularly for check-ups and cleanings to ensure that your veneers and your oral health are in good condition.
Contact Your Alexandria Dentist Today!
If you are interested in getting dental veneers in Alexandria, VA, the first step is to contact your cosmetic dentist and schedule a consultation appointment. During this appointment, our team will examine your teeth and discuss your goals and concerns to determine if dental veneers are the best option for you. They will also provide you with more information on the process and what to expect during treatment. It is important to ask any questions you may have during this consultation to ensure you feel comfortable and informed about the procedure.