Dentist Office Near Woodbridge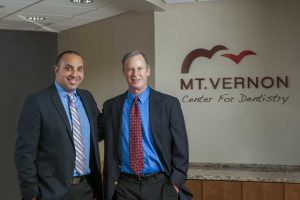 Patients looking for a dentist near Woodbridge can find the kind all of the dental services they've always wanted at Alexandria Cosmetic Dentistry. Drs. Geren, Mady, Abareddy, and Garlisi serve patients of all ages with all types of needs. Your Woodbridge dentists are committed to quality patient care. If you want to find a dentist near Woodbridge who cares about you as an individual and who wants you to have exceptional dental care, your Woodbridge dentists at Mt. Vernon Center for Dentistry can help.
A leading Woodbridge expert in cosmetic dentistry, your dentist near Woodbridge can provide you with a stunning, straight smile. Services we provide for families include teeth whitenings, crowns, dental implants, and more. Patients who suffer from dental anxiety or fear of the dentist can enjoy the benefits of sedation dentistry and relax during their next Woodbridge dentist visit, and patients who have lost teeth can find hope again with our cutting edge tooth implant procedures.
Your Woodbridge dentist cares about your comfort. That is why just some of our patients amenities at Mt. Vernon Center for Dentistry include:
A private dental suite.
Custom chair pads and neck pillows.
Warm and comfortable blankets.
In room TVs with movies and other programming.
Hospitality bar offering coffee, tea, water, and juice.
Flexible financial options.
Contact Your Dentist Near Woodbridge
For more information about your Woodbridge dentist—Dr. Geren, Dr. Mady, Dr. Abareddy, or Dr. Garlisi—call our Woodbridge dentist office today. Mt. Vernon Center for Dentistry will set up an appointment and discuss all of your dental and oral health concerns. For more information about your dentist near Woodbridge, call our office in Alexandria and set up an appointment.
Phone: 703-360-5881