Professional Teeth Whitening in Alexandria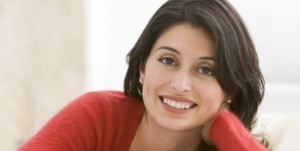 Whiten your teeth with teeth whitening and feel the confidence that comes from a whiter, healthier-looking smile. If you endured unflattering, painful braces to straighten your teeth, don't let that investment go to waste by letting your teeth turn yellow. Tooth bleaching can make a straight smile stand out. Mt. Vernon Center for Dentistry's teeth whitening treatment whitens teeth beautifully and can finally give you that confident smile you've always wanted.
Benefits of Teeth Whitening
Less things whiten teeth than darken them. Many common habits like drinking coffee, wine, cola, or tea can stain teeth over time. Smoking, taking certain medications, and even just aging can also discolor teeth. The good news is that with tooth bleaching these effects can be reversed and we can whiten your teeth again. To whiten your teeth in the most maximum, natural looking way, professional teeth whitening is the safest, surest choice.
How Does Teeth Whitening Work?
Dr. Geren and Dr. Mady offer two methods of teeth whitening. The first is an in-office teeth whitening treatment that instantly whitens teeth. The second method is a tooth bleaching kit with custom fit trays made from an impression of your teeth, that you can use to whiten your teeth at home. The result from both teeth whitening methods is a dazzling white smile that you can only get from professional tooth bleaching.
Schedule an appointment
If you are in the Alexandria–Mt. Vernon area and you're ready to instantly improve the way you look and whiten your teeth with one of our tooth bleaching methods, call Mt. Vernon Center for Dentistry Alexandria, Virginia office today and find out which teeth whitening treatment is best for you!
Teeth Whitening FAQ
How much whiter will my teeth be?
The degree of whitening will depend on the level of stains on your teeth, and even the mineral content of your teeth.  However, you can generally expect your teeth to be whitened around eight shades whiter.
Does teeth whitening hurt?
As with many procedures, you might expect a little discomfort, but the process of teeth whitening is considered to be painless.
Is there anything I shouldn't eat or drink after the procedure?
In order to get the most out of your whitening, it is advised that you do not consume any food or drink that can stain your teeth for a minimum of 48 hours after your procedure.  These include foods such as coffee, tea, wine, fruit juices, berries, and food with artificial coloring.  You will also want to avoid smoking during this time.