Your Invisalign Dentist in Alexandria, VA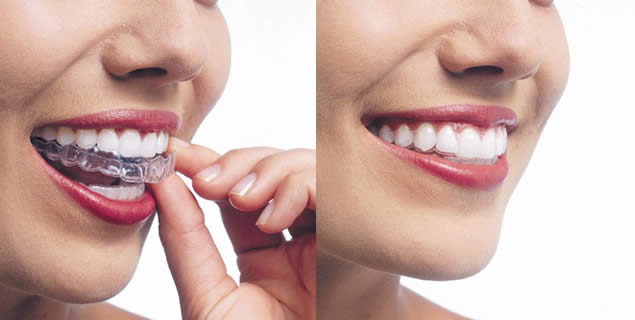 INVISALIGN is an innovative way to get straight teeth without braces. Sometimes called "invisible braces" or "clear braces", Invisalign is actually a series of virtually invisible aligners that gradually move your teeth. Instead of painful brackets and wires that draw unwanted attention to your teeth, with clear Invisalign braces, you can comfortably straighten your teeth without anyone noticing.
Invisalign clear braces have only been around for a few years, but they have already benefited over 500,000 patients. Invisalign clear braces have enjoyed such tremendous popularity and positive results that 70% of dentists are now trained to use them. Dr. Geren, Dr. Mady, and their staff are pleased to offer this safe and successful innovation for patients looking for a clear way to get straight teeth.
How Does Invisalign Work?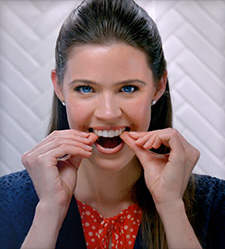 Invisalign clear braces make teeth straightening a breeze. One of our dentists will examine your mouth and take x-rays so that they can create a teeth straightening plan that is perfect for you. The Invisalign system works with virtually invisible aligners that fit over your teeth like retainers do. Using 3D computer imaging technology, they will design your custom clear braces so that you can get started on your perfect smile. You will wear your Invisalign aligners 20–22 hours each day. Every two weeks of the treatment, you change to a new aligner, so that your teeth move gradually into place. Every six weeks, you visit the dentist to check your progress and to get your next set of aligners.
Invisalign teeth straightening works with a progression of aligners, also known as trays. Your teeth begin in a position 0 and we try to move them to the perfect end position. There are a series of steps in between, so that we can move your teeth gradually and comfortably. You will first be given tray #1, which will move your teeth slightly. After several weeks of wearing your first set of aligners, you will be given a new set, or tray #2. You will continue with this process until you see the beautiful results that you want.
Benefits of Invisalign Clear Aligners
You won't even believe you're wearing braces when you choose Invisalign aligners to get a perfect smile. Here are just some of the amazing advantages of Invisalign clear braces: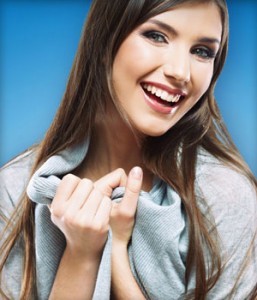 Conveniently Removable | The clear aligners should be worn for 22 hours each day for maximum benefit, but can easily be removed for eating and flossing. If you need to take your aligners out to put a sports mouthguard in, you can easily switch the two out. Unlike with permanent traditional braces, you can get short breaks from your clear braces when you need them.
Top-of-the-Line Comfort | Conventional braces include wire and metal that protrude in the mouth and tend to rub against the lips and gums. At times, they can even puncture or scratch the insides of your mouth. Drs. Geren, Mady, Abbareddy, and Garlisi want their Alexandria–Mt. Vernon, VA, area patients to enjoy the smooth, seamless comfort of Invisalign clear braces while they are working on a perfect smile.
Simple Care | Traditional braces require some getting used to when it comes to cleaning and caring for them. With Invisalign aligners, you don't have to buy special tools or alter your habits. You can brush and floss regularly. Caring for your aligners is easy too. All you have to do is put them in denture cleaner or brush them with your toothbrush.
Improved Health | Because you can easily clean every inch of your teeth, you reduce health risks that are associated with conventional braces. Invisalign clear braces have lower rates of gum disease, cavities, and other oral health hazards.
Fast Treatment | Treatment with metal braces can take up to 5 years, but Invisalign clear braces only take a year to a year and a half to give you the perfect smile that you seek. In some cases, Invisalign clear braces can get you straight teeth up to 40% faster than braces. The average length of treatment for straight teeth is between six and fourteen months.
No Limitations | Invisalign clear braces allow you to eat all of your favorite foods that you're not allowed to eat when you wear conventional braces. You can easily remove your Invisalign aligners, so that you can enjoy your chewy, sticky, and crunchy favorites.
Subtle Changes | Many people dread the toll that metal braces can take on their overall appearances. We want all our patients to feel confident throughout their orthodontic treatment. Because Invisalign aligners are virtually invisible, you will only see positive improvements in your appearance.
Impressive Results | Clear braces will correct your bite and straighten your teeth to give you a perfect smile. You will love your Invisalign results.
Schedule an appointment
Mt. Vernon Center for Dentistry is a Mt. Vernon–Alexandria area Invisalign clear braces provider. Learn more about these amazing Invisalign clear braces by calling our Alexandria, Virginia, office today for a consultation with Dr. Geren, Dr. Mady, Dr. Abbareddy, or Dr. Garlisi. We'll be happy to look at your dental health to see if Invisalign clear braces will work for you. Get the straight teeth you've always wanted with Invisalign clear braces today!
---
What Our Customers Say
We're a military family and new to the area so we needed to find a new dentist for our 7 y/o son. I was also interested in orthodontics for myself so I wanted to find a place where the whole family could be seen. After some research on local dentist offices I came across Mt. Vernon Center for Dentistry and the reviews/testimonies from patients were almost to good to be true. From the moment I made our appointments I knew this place was a great choice.

The staff is so very friendly and professional. I love that we were given a tour of the entire dentistry and were introduced to all of the staff on hand. Such a warm/welcoming atmosphere!

My son was a little nervous about his appointment and being in a new place. Eileen did such a great job making him feel comfortable and explaining everything that she was going to do. She was great in easing his nerves and he was comfortable during his entire exam/cleaning. He left his appointment smiling, plus loved the fact he left with a little goody bag and surprise toy!

I was thoroughly impressed with Dr. Mady and my consultation for Invisalign. Dr. Mady took the time to listen to my reasoning for wanting orthodontics and to get know a little about me. I left my consultation with all questions answered and clear expectations. Today, I am 3 1/2 weeks in to wearing Invisalign and so happy my family's dental health is under the care of Mt. Vernon Dentistry. Special shout out as well to Jennifer for her professionalism and explaining everything I needed to know about wearing, caring for my aligners. Thank you Mt. Vernon Center for Dentistry for being awesome and we look forward to seeing you at our next appointments!
What Our Customers Say
I would like to start by saying Dr. Kim and just team have restored my faith in Denistry!!!! I started going to a dentist pretty late in life and have traditionally hated going to the dentist. My first visit to the dentist was after chipping a tooth the night of my High School graduation. Years after I experienced a dry socket and a horrible root canal experience with an inexperienced dentist so I started down the path of tooth removal instead of tooth preservation. After years of this my teeth started to shift and I often found myself with tooth pain and/or jaw pain.

My wife finally recommend and insisted that I try out this new dentist that she was going to. I was reluctant but decided to try it out. From the second I walked they the door I was treated in a professional and kind manner. From the receptionists to the financial advisers, everyone was extremely friendly.

Dr. Kim took the time to not simply charge me money for things I did not understand but explain what was practical for me based on my dental history. We sat together and he came up with an actual plan that addressed the total health of my teeth which started with Hygiene and Structure.

Each specialist that I have seen so far has specialized in a particular aspect of my tooth repair. My initial visit was with the Hygienist and I received an a deep cleaning which I had never had. Throughout the entire process she made sure I was numb to the point I felt no pain based on the bad dental experiences I have had in the past. Doctor Kim followed up with a few fillings and at the end of the day I felt Zero pain felt comfortable now with my new dentistry team.

I have since had an appointment with Dr. Mady about my Invisalign and am extremely happy with my results so far. I look forward to continuing my tooth repair process with Mount Vernon Center for Denistry and highly recommend anyone to use that has had issues with other practices in the past use them.
---