Your Invisalign Dentist in Alexandria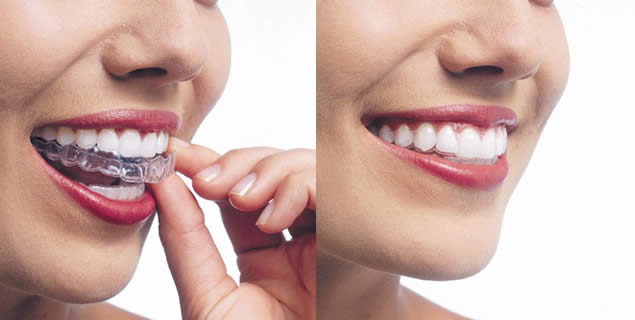 INVISALIGN is an innovative way to get straight teeth without braces. Sometimes called "invisible braces" or "clear braces", Invisalign is actually a series of virtually invisible aligners that gradually move your teeth. Instead of painful brackets and wires that draw unwanted attention to your teeth, with clear Invisalign braces, you can comfortably straighten your teeth without anyone noticing.
Invisalign clear braces have only been around for a few years, but they have already benefited over 500,000 patients. Invisalign clear braces have enjoyed such tremendous popularity and positive results that 70% of dentists are now trained to use them. Dr. Geren, Dr. Mady, Dr. Abbareddy, Dr. Garlisi, and their staff are pleased to offer this safe and successful innovation for patients looking for a clear way to get straight teeth.
How Does Invisalign Work in Alexandria?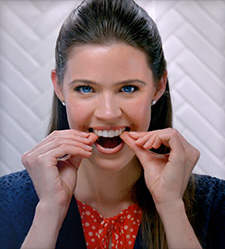 Invisalign clear braces make teeth straightening a breeze. One of our dentists will examine your mouth and take x-rays so that they can create a teeth straightening plan that is perfect for you. The Invisalign system works with virtually invisible aligners that fit over your teeth like retainers do. Using 3D computer imaging technology, they will design your custom clear braces so that you can get started on your perfect smile. You will wear your Invisalign aligners 20–22 hours each day. Every two weeks of the treatment, you change to a new aligner, so that your teeth move gradually into place. Every six weeks, you visit the dentist to check your progress and to get your next set of aligners.
Invisalign teeth straightening works with a progression of aligners, also known as trays. Your teeth begin in a position 0 and we try to move them to the perfect end position. There are a series of steps in between, so that we can move your teeth gradually and comfortably. You will first be given tray #1, which will move your teeth slightly. After several weeks of wearing your first set of aligners, you will be given a new set, or tray #2. You will continue with this process until you see the beautiful results that you want.
Benefits and Advantages of Invisalign Clear Aligners
You won't even believe you're wearing braces when you choose Invisalign aligners to get a perfect smile. Here are just some of the amazing advantages of Invisalign clear braces: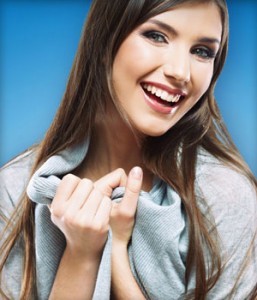 Conveniently Removable | The clear aligners should be worn for 22 hours each day for maximum benefit, but can easily be removed for eating and flossing. If you need to take your aligners out to put a sports mouthguard in, you can easily switch the two out. Unlike with permanent traditional braces, you can get short breaks from your clear braces when you need them.
Top-of-the-Line Comfort | Conventional braces include wire and metal that protrude in the mouth and tend to rub against the lips and gums. At times, they can even puncture or scratch the insides of your mouth. Drs. Geren, Mady, Abbareddy, and Garlisi want their Alexandria–Mt. Vernon, VA, area patients to enjoy the smooth, seamless comfort of Invisalign clear braces while they are working on a perfect smile.
Simple Care | Traditional braces require some getting used to when it comes to cleaning and caring for them. With Invisalign aligners, you don't have to buy special tools or alter your habits. You can brush and floss regularly. Caring for your aligners is easy too. All you have to do is put them in denture cleaner or brush them with your toothbrush.
Improved Health | Because you can easily clean every inch of your teeth, you reduce health risks that are associated with conventional braces. Invisalign clear braces have lower rates of gum disease, cavities, and other oral health hazards.
Fast Treatment | Treatment with metal braces can take up to 5 years, but Invisalign clear braces only take a year to a year and a half to give you the perfect smile that you seek. In some cases, Invisalign clear braces can get you straight teeth up to 40% faster than braces. The average length of treatment for straight teeth is between six and fourteen months.
No Limitations | Invisalign clear braces allow you to eat all of your favorite foods that you're not allowed to eat when you wear conventional braces. You can easily remove your Invisalign aligners, so that you can enjoy your chewy, sticky, and crunchy favorites.
Subtle Changes | Many people dread the toll that metal braces can take on their overall appearances. We want all our patients to feel confident throughout their orthodontic treatment. Because Invisalign aligners are virtually invisible, you will only see positive improvements in your appearance.
Impressive Results | Clear braces will correct your bite and straighten your teeth to give you a perfect smile. You will love your Invisalign results.
Schedule an appointment
Mt. Vernon Center for Dentistry is a Mt. Vernon–Alexandria area Invisalign clear braces provider. Learn more about these amazing Invisalign clear braces by calling our Alexandria, Virginia, office today for a consultation with Dr. Geren, Dr. Mady, Dr. Abbareddy, or Dr. Garlisi. We'll be happy to look at your dental health to see if Invisalign clear braces will work for you. Get the straight teeth you've always wanted with Invisalign clear braces today!