Your Family Dentist in Alexandria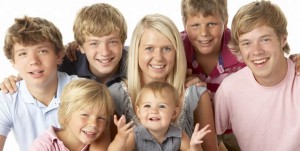 Quality family dentistry is as important to our family dentists Dr. James Geren, Dr. Zeyad Mady, Dr. Aishwarya Abbareddy, and Dr. Tyler Garlisi in Alexandria, Virginia, as it is to you. Each stage of life requires attention to different areas of oral health. And Mt. Vernon Center for Dentistry is there for each member of your family each step of the way.
Family Dentistry: Young Children
At our office, we offer infant dentistry and children's dentistry so your whole family can enjoy the very best in dental care. Our dentists and friendly staff are trained in pediatric dentistry and know how to make dental visits a positive experience for your little ones.
An effective way to develop good dental habits in your children is with regular visits to the family dentist. We recommend that you schedule your child's first visit around their first birthday. This allows your child to become familiar with the family dentist and comfortable in the dentist chair for future visits.
You may think baby teeth don't need much care, since they fall out within a few years. However, baby teeth maintain space for the permanent teeth to come in properly and studies have shown that teaching your child to take good care of their first teeth increases the likelihood that your child will have healthy permanent teeth. So call our office today to schedule a visit for your infant or child.
Family Dentistry: Teens and Adults
Dental care needs to continue during the formative teenage years, into adulthood and in the golden years. Family dentistry at Mt. Vernon Center for Dentistry incorporates all the dental care you need for each family member. Not only are regular checkups important, but other general or cosmetic dentistry needs may also come into play.
If you are in the Mt. Vernon, Virginia, area, trust your family dentistry needs to Dr. Geren, Dr. Mady, Dr. Abareddy, and Dr. Garlisi. Call our office and come get to know Alexandria's family dentists at Mt. Vernon Center for Dentistry.