Meet Your Alexandria, VA, Dentist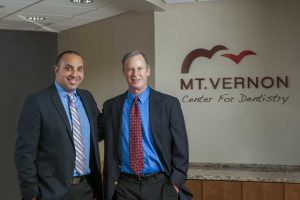 If you are in the market for a caring, exceptionally skilled Alexandria cosmetic dentist, Mt. Vernon Center for Dentistry can help. Dr. Geren, Dr. Mady, Dr. Abbareddy, and Dr. Garlisi provide quality dental work and a comfortable environment for each of their patients.
Our Alexandria dentists have what it takes to meet all of your teeth related needs, regardless of your age. From childhood to adulthood, our doctors will serve patients and help families learn preventative measures so that they may enjoy healthy, strong teeth for the rest of their lives.
If you experience dental anxiety regardless of the dentist, Mt. Vernon Center for Dentistry can provide relaxing sedation dentistry to soothe your stress and make visiting your Alexandria dentist a comfortable experience. If a missing tooth makes you dread your next trip to the dentist, our team can alleviate that fear and concern with a comfortably placed tooth implant or dental bridge. Your Alexandria dentist can also serve you with expert cosmetic dentistry care. With as little as one visit to our Alexandria cosmetic dentistry practice, Mt. Vernon Center for Dentistry can give you a brighter, healthier smile.
Our full-service Alexandria cosmetic dentistry practice offers:
A private dental suite.
Custom chair pads and neck pillows.
Warm blankets.
In room TVs.
Laughing gas & oral sedation–"one pill sedation dentistry."
Hospitality bar offering coffee, tea, water, and juice.
Financial options.
---
Contact Our Dentist in Alexandria
For more information about your Alexandria dentists, call our office today. Mt. Vernon Center for Dentistry can set up an appointment that fits your schedule. When you arrive, your Alexandria dentist will assess your individual dental needs, and work with you to give you the smile you've always wanted. We look forward to meeting you!
Phone: 703-360-5881
Rebekah D
---
We have been so happy with the care we get at Mt. Vernon Center for Dentistry. They were the first dentist we tried when moving to Alexandria in 2015, and they've been our go-to ever since. They are the most thorough, experienced, and friendly dentists we've had in a long time. Highly recommend!
Rafael C. Hernandez
---
I have been a patient of Mt. Vernon Center for Dentistry for many years. Dr. Geren has performed a variety of services such as implants, crowns, root canals, etc. I have always been impressed by his overall excellent work, his attention to detail is unsurpassed, and his professionalism as well as, of his entire staff is the best I have come across. My last visit recently for a crown was not any different. All the members of my family are also patients of Dr. Geren. I will recommend Mt. Vernon Center For Dentistry to anybody looking for dentistry work of the highest quality.
Richard M
---
I have been highly pleased by the great service I've received from Mt. Vernon since I started going there in 2015. Cindy is a superb, thoroughgoing, conscientious, upbeat dental tech--well worth waiting for--and has all sorts of helpful hints for dental care. She's the best dental tech I've had at any point in my multi-decade life . I'm also pleased by the care I've rec'd from Dr. Madi, who performed fast, skillful work when in mid-2018 I completely cracked a tooth and he had to replace it with a dental implant without much warning. He was as compassionate as he was conscientious throughout this delicate process; he even called my house afterwards to see if I was doing OK. I expect to continue using MT Vernon's services for the remaining time we'll be living in Alexandria.
Amy K
---
I sought out Dr. Geren because he came highly recommended and I was not disappointed. The first exam was extremely comprehensive and much more thorough than I had experienced than with other dental groups. I am particularly impressed with the proactive approach to care taken by the entire staff. I highly recommend Dr. Geren and the Mount Vernon Center for Dentistry to anyone seeking high quality dental care in Alexandria.
Gretchen K
---
When we moved to Alexandria, my family decided to switch dentists after many years with our previous provider. Dr. Mady and his staff could not have been more welcoming to me and my boys (6 and 7). Comprehensive exams, thorough cleanings and all around a wonderful experience. I look forward to my appointments and catching up with the friendly staff each time I go in.
---