Root Canal Dentist in Alexandria, VA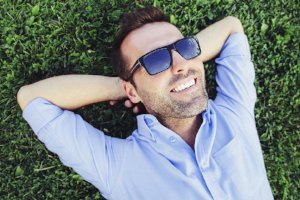 Most people who read the phrase "root canal" have a nervous reaction to it. Stories from times before good anesthetics and proper dental equipment have impacted our modern view of this dental procedure.
Some people who need this procedure would rather live with the severe pain of their toothache than get the dreaded root canal treatment.
We'd like to set the record straight that root canals are actually a tooth pain-relieving and tooth-saving procedure!
What Is a Root Canal?
There is a part of your tooth that is actually called the root canal. It is a small passage filled with blood vessels and nerves that passes through the roots of your teeth. As with any portion of your tooth, this root canal can sometimes become infected.
Root canal procedures treat this tooth infection using a method very similar to a standard tooth cavity filling.
First we open the top of the tooth so that we can access the infection.
Then we clean out all damaged material inside the tooth.
We then replace the damaged pulp with a biocompatible filling that keeps the rest of the tooth healthy.
We cap the tooth with a custom-designed dental crown.
All of this is done with proper anesthetic and the most effective tools available to ensure that your dental experience is as comfortable as possible.
Why Should I Get a Root Canal in Alexandria?
Tooth Pain Relief | Tooth infections of the root canal area are notoriously painful. They affect a portion of the tooth that has highly sensitive nerve endings. Often, a tooth that needs a root canal treatment is unmistakable.
A root canal treatment isn't always comfortable, due to pressure inside the tooth while working, and some healing time will be required. However, this treatment is designed to relieve that toothache pain—not cause more. The sooner you get the root canal therapy procedure, the sooner you can live your life without daily tooth pain. We happily provide several different sedation dentistry options to help make the procedure more comfortable and pain-free.
Prevent Tooth Infection Spread | Tooth pain relief is a major reason to have the root canal treatment that you need, but it's not the only one. As with standard cavities, any infection left untreated can end up spreading. This puts the rest of your teeth at risk of decay. A tooth that doesn't receive the treatment it needs may end up needing a complete tooth extraction.
This infection spread can also threaten the adjacent teeth. The longer the tooth infection is left to spread, the more teeth you may lose. Getting treatment quickly can prevent further tooth pain or dental damage! It also may help you avoid future root canals for other teeth.
Root Canal Treatment at Mt. Vernon Center for Dentistry
If you are experiencing severe tooth pain, call us immediately! The sooner we can treat you, the sooner you can get out of tooth pain and back to your life.
---
What Our Customers Say
Oral surgery done by Dr. Kim to remove a bad root canal Prompt service Precision work Great results Highly recommend!
What Our Customers Say
As a Brit, our fear of dentists is well known, so when we found Mt. Vernon Center for Dentistry, I was hesitant. If you're dentist-phobic, you need to head here. I have been a patient for about four years, and every time has been a pleasure (yes, a pleasure!). Recently, I have had to have work on a cracked tooth, a root canal and a three tooth bridge, and when I say that ALL the procedures were painless, I mean it. Dr. Kim is a fantastic dentist, he completely puts you at ease and explains all the procedures in detail. It was unbelievable that he carried out all the work listed, pain free, gag free and stress free. He and Dr. Mady have great support staff, the hygienists -Eileen, Jennifer and Annette are professional and caring. All the administration staff are very welcoming and check you in and out quickly. I apologize for forgetting their names, but they are wonderful. Do yourself a favor go to Mt. Vernon Center for Dentistry, you won't be disappointed.
What Our Customers Say
I called about pain I was experiencing and was seen right away and given a diagnosis for an abscessed tooth. Dr. Geren showed me the x-ray results and explained in detail how the x-ray revealed the infection. He convinced me that I needed a root canal procedure and arranged for me to have it done immediately. He sensed my trepidation and explained that there has been significant improvements in the procedure with less risk for the pain and discomfort previously associated with this process. He was absolutely correct. With great efficiency and care he completed the procedure in about an hour. I experienced no pain during the entire process. His assistant Anita was equally efficient and worked in tandem with Dr.Geren. She was attentive throughout the procedure asking if I was OK or in need of a short break. I have been going to this practice for over fifteen years. The entire staff is cordial and eager to assist by answering your questions or to explain all aspects right through the billing for services. This is a top shelf dentistry that I would recommend to anyone searching for dental services.
What Our Customers Say
I had a terrible toothache, and turns out I needed a root canal. Dr.Mady and staff aided in my comfort during the root canal and made sure that I was okay. I told him that I was very afraid of the dentist, and he was very vocal with me before, during, and after the procedure to ensure my comfort while he did the root canal. He aided in reducing any pain with the local anasthesia as well as numbing (For me I needed it!) I don't have anymore pain in my tooth, except for the normal post procedure side effects. I am very pleased with Dr.Mady and staff, I will return for future visits.
---