Implant-Supported Dentures in Alexandria
Missing teeth can affect your self-confidence and make you want to hide your smile. Implant-supported dentures, sometimes referred to as implant-retained dentures. are a comfortable, durable, and natural-feeling permanent solution to missing teeth.  At the Mt. Vernon Center for Dentistry we will restore your smile and give you your confidence and comfortability back.
What Are Implant-Supported Dentures?
Traditional dentures are becoming less popular recently due to their likelihood to slip, pinch, damage your jaw, and cause issues while eating. Implant dentures provide a strong and healthy solution to traditional dentures with far fewer complications.
Implant-supported dentures are a practical tooth replacement option for patients that are missing teeth but still have a strong jawbone. The procedure attaches implants to the jawbone that hold the dentures in place, providing more stability and strength than traditional dentures.
5 Benefits of Implant Dentures
Knowing the benefits, you can say goodbye to the discomfort and limitations of traditional dentures and embrace a new level of freedom and confidence.
Long-lasting and Reliable: They are a durable and long-lasting alternative to traditional dentures. The implants, made of biocompatible materials like titanium, are surgically placed into the jawbone, providing a solid foundation for your dentures. This results in a sturdier and more reliable solution that can withstand the demands of your daily life without compromising on comfort.
Convenient and Hassle-Free: Unlike traditional dentures that need to be removed and cleaned regularly, implant-supported dentures are a permanent fixture in your mouth. This means no more dealing with messy adhesives or the fear of your dentures slipping at inopportune moments. Simply treat them like natural teeth – brush, floss, and maintain regular dental check-ups – and you're good to go!
Enhanced Stability: They offer superior stability compared to their traditional counterparts by the secure integration of the dental implants with your jawbone ensuring your dentures won't slip or move while you're speaking, eating, or laughing. You can now savor your favorite foods without worrying about embarrassing denture mishaps, enabling you to regain the joy of dining and socializing with confidence.
Preserves Bone Health: One of the most significant drawbacks of traditional dentures is the potential damage they can cause to the jawbone. Since they rest on top of the gums, they do not provide the necessary stimulation to the underlying bone, leading to bone loss over time. In contrast, implant-supported dentures actively preserve your bone health. By integrating with the jawbone, the implants mimic natural tooth roots, stimulating bone growth and preventing bone deterioration.
Natural Look and Feel: Implant-supported dentures are custom-crafted to fit your mouth perfectly, providing a natural and comfortable feel. The dentures are carefully designed to complement your facial features, enhancing your smile and overall appearance. With implant dentures, you'll regain the confidence to show off your radiant smile without any concerns about unnatural-looking teeth.
At the Mt. Vernon Center for Dentistry, Dr. Geren and Dr. Mady , take pride in providing comprehensive information to help you make an informed decision. Our team of experts will guide you through every step of the process, from initial consultations to post-procedure care.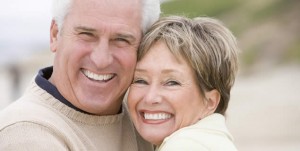 Regain the ability to eat, talk, and laugh freely – schedule a consultation today and let us help you discover the life-changing benefits of implant dentures.
At the Mt. Vernon Center for Dentistry, Dr. Geren and Dr. Mady offer many years of experience, meaning you can be assured you will have a comfortable experience with great results that are built to last and are easy to care for and clean.
Call us today to schedule your appointment to get your implant-supported dentures. Let us fix your smile!
---
What Our Customers Say
Highest level of customer service because everyone in this office is very caring. They are patient, good listeners, friendly and strive to make sure you have a good experience. We have been in for routine issues and to have old bonding replaced. Dr. Geren does beautiful cosmetic work and manages to solve other dental problems with the simplest solutions possible. Peaceful atmosphere, clean and modern.
---